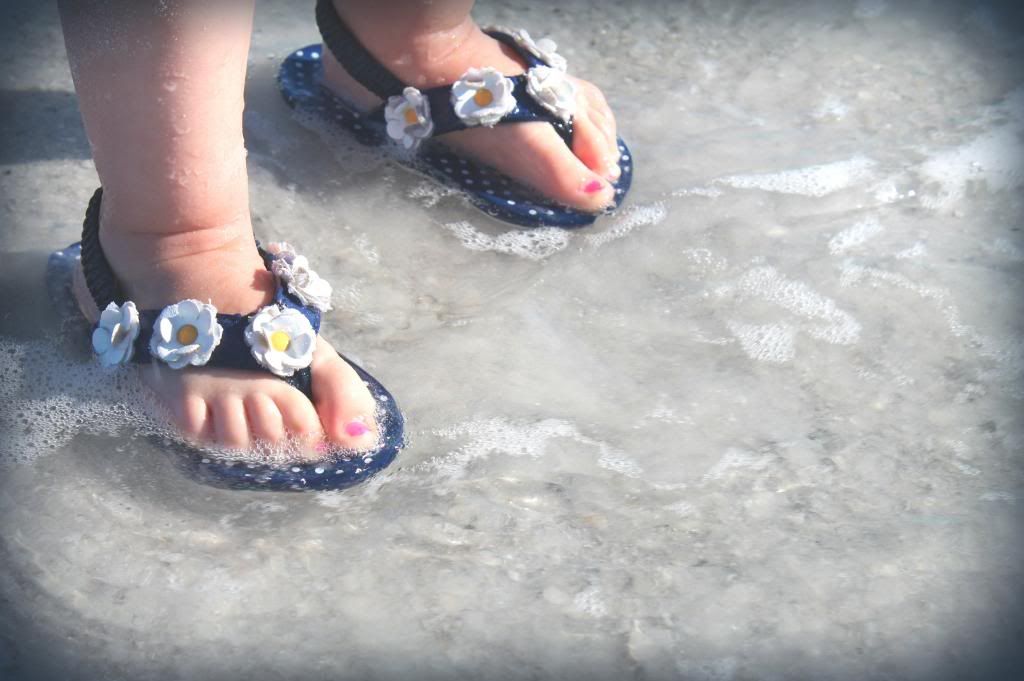 As most of my blog readers know from Facebook, we went on a cruise last weekend. It was a family reunion cruise for Tony's side of the family who has a reunion every other year. We were brave and decided to take Audrey since we knew there would be plenty of people to help us if times got hard. Before we left I was both excited and nervous for the trip because let's face it, toddlers add lots of new challenges to trips, but I knew that Audrey would have a blast. I think she's at a great age for trips like this because everything is just so wonderfully new and exciting to her.
When I was preparing for the cruise, I scoured the internet for resources and mostly blogs about what it was like to go on a cruise with a nearly 1 1/2 year old toddler. There was very limited information on the topic. When this happens I feel like it is my duty to fix it :) so I am going to mostly be writing on what we experienced traveling with a toddler, but I'll also add in fun family details as well. Hold on tight, this is going to be a long one!
Getting Ready For the Big Trip
Oh my word do babies need a ton of stuff when you leave home. When Tony and I went on a cruise pre-Audrey, we had ONE suitcase and ONE carry-on between the two of us. This time? Two
huge
suitcases, two backpacks, a carry-on duffle bag, and Audrey carried a mini-backpack with some of her activities for the plane. Luckily, on the way there we flew Delta and have a credit card with them, so we got our bags checked for free.
I found a few packing lists for babies online that really helped me get my act together, and we bought a few things in Florida when we got there to avoid things being too heavy/not having enough room. Things like diapers, wipes, snacks, etc. Even with all of my lists and thinking ahead, I still forgot a few things, and I still nearly went crazy. I had to Skype with my sister just to get through the day before we left. I was really stressed about making sure Audrey had everything she needed. In the end, I did a pretty good job and if anything I over packed. Looking back I wish I would have just chilled out a bit and started packing a little earlier.
I got a bunch of new activities and toys from the Dollar Tree for the plane ride. They were all helpful, but Audrey's favorite thing was probably the post-it notes. She would peel them off and stick them all over the window, the seat back, me, Tony, anything she could find. I didn't mind because they were cheap dollar store versions. It's the simple things, right? :)
Getting to Florida
Audrey is a pretty happy traveler so we are really blessed in this regard. Audrey is also a very active little girl with the attention span of an A.D.D. puppy. She wants to constantly move and explore new things so sitting still for 3-4 hours is her definition of torture (mine, too, but being an adult I have to hold back my whining and complaining). Like I said, the post-it notes were a big hit, but I don't think anything could have kept her entertained the entire time. We spent a lot of time playing on the iPad, eating snacks, and Audrey loved looking out of the window. It was okay, and I wouldn't say Audrey was bad, but she was definitely wiggly!
Audrey loved the airplanes. When we showed up at the airport and made it through security, she looked out the window, looked back at us, looked back at the window and screamed "ROCKET SHIPS!" By the end of our traveling, when she would hear the "dings" that go off on the plane she'd say, "all ready! Here we go!" She did have some ear troubles but chewing fruit snacks seemed to help a lot. Audrey seemed almost excited to get on the planes, so that was nice.
The Trip on the Ship
Audrey absolutely fell in love with the ocean as soon she laid eyes on it. We always read a book for bedtime called
Ten Little Rubber Ducks
and it talks about the ocean a lot. One of the phrases Audrey likes to finish for us is, "as far as one can see, only water and sky" and we said it a lot on the cruise. Any time Audrey would see the ocean she'd squeal, "water!" She spent a lot of time looking out the window we had in our room. I think she could have spent an hour just looking at the ocean. I think when traveling with a toddler/kids a window or balcony is a must.
This section could go on forever, so I'm going to summarize to make it easier to get through.
Things Audrey liked:
Karaoke. That girl danced for probably danced for an hour straight one night. She even tried singing with the "performers" but the only song she would perform was "Twinkle, Twinkle, Little Star" and it was usually sung in various animal sounds. Crazy chick.
Exploring the ship. Just walking around was one of her favorite things. There is a lot to see on a ship so you're always seeing something new.
24-hr pizza availability. She would literally wake up from naps and ask for pizza. I've never seen her eat so much in her life! She ate pizza every day.
Fruit and tomatoes. Our cute waitress in the dining room quickly realized that Audrey's favorite foods are fruit and tomatoes. After the first night, as soon as we got to dinner our waitress brought her a plate of beautiful fruit and cut cherry tomatoes every night. I thought it was really thoughtful.
Water. See above :)
Sand. She was a little nervous around the ocean waves, but she totally loved the sand.
Easy-access to mom at night. Audrey slept on a sofa-bed in our room. We had asked for a crib, but those cabins are so tiny that we decided to try out the sofa-bed so we'd have more room. Our room steward set it up nicely so that there was no way she could roll off. This sofa-bed was perpendicular to our bed, so Audrey's head and my head were very close. Audrey did a good job of falling asleep on her bed, but in the middle of the night she'd zombie crawl onto our bed and would work her way into my arms. Very sweet, but it's been causing a lot of problems now that we're home.
Even though this cruise was MUCH different than the one we went on as a kid-less couple, it was still fun. My only complaint was the weather. It seemed to rain the entire trip and was only sunny and warm for part of one day. The ship did have delicious hot chocolate, though, so I guess that helped :).

Our cruise ship made four stops: Cozumel, Mexico; Belize City, Belize; Roatan, Honduras; and Grand Cayman, Cayman Islands

In Cozumel the entire family went on a sailboat for snorkeling and other activities. As soon as we got on the boat it started pouring down rain. It rained for almost the entire sailing and made for some chilly times. We still had some fun, some really yummy food, and Audrey stayed warm snuggling with auntie Carleigh with some towels.




Before we left, I read that if you have kids that it may be best to stay on the ship at the Belize stop. There isn't much for kids to do in Belize, and I read that it can be kind of dangerous. So, we stayed on the ship, swam in the pools (well, Audrey did), did some laundry and just kind of had a low-stress day. It was still a bit breezy and rainy, but that didn't keep us from relaxing and enjoying a nearly empty cruise ship!



In Roatan we went on a neat little bus tour. We saw some of the island, visited some nice picture-taking areas, visited an orphanage and dropped off some school supplies, and visited a monkey park. The monkey park was fun, but Audrey and I both seem to prefer looking at monkeys rather than having them jump all over you. Audrey got pretty freaked out when the monkey jumped on my shoulder and we kept our distance after that. Audrey really liked this sweet little green parrot they had. It perched itself right on my finger and let us pet it. Audrey tried to hold him but wasn't very successful. I guess birds aren't snugglers. :)








My favorite stop of the cruise was hands down the Cayman Islands. We decided to just have a relaxing day at the beach. We got in a taxi, asked them to take us there, and the driver took us to a resort where we only had to pay $2 and we had all the amenities of the resort available. Well, everything but the pool and rooms. The jet ski rentals, the restaurant, chairs, bathrooms, etc. We didn't use any of those things but it was so nice to have it there. The beach was AMAZING. It was the most perfect beach I've ever seen. When we walked onto the sand I turned to Tony and said, "this is what I've been waiting for!" Clean, white sand, crystal-clear blue water, sun shining. We only spent a couple hours there because we are pale whiteys and didn't want to get burned, but it was the highlight of the trip. The beach hardly had any people and it was just so relaxing.
Flying home was pretty similar to our flights before the cruise, Audrey was wiggly and we were doing our best to restrain our crazy wiggle worm. The nice thing about coming home was that Audrey fell asleep on our flight to SLC from Pheonix and stayed asleep the entire night. She got a decent night's rest and we were able to just sit quietly for an hour on the plane.
Cruising with a toddler is a lot of work, and a lot of fun. I was kind of wishing that Audrey had been two for the trip, because there were a lot of fun kids' camp things she could have participated in. We are all happy to be back in our normal routine at home, but every so often Audrey looks out the window and asks about her beloved water.